This project combines Citizen Science and forensic environmental DNA tools to assess the biodiversity and extent of fragmentation of the river Afan.
Rising to 500 m above sea level, the River Afan flows for 26 km from its source into Swansea Bay at Port Talbot. A long history of coal mining and metal refining within the catchment resulted in the virtual elimination of salmon in the early 19th Century. Although much has been improved in recent years, the legacy of historical pollution is still evident, with four out of the six Afan water bodies failing to meet the EC Water Framework Directive ecological targets for fish in 2015.
Reconnecting Our River: we aim to to carry out a complete survey of the Afan catchment (approximately 220 km including all tributaries) using the AMBER Barrier Tracker and apply novel techniques to detect DNA in the water (environmental DNA) to map the occurrence of salmon and trout, as well as key invertebrates that are useful indicators of water quality and stream health. This information will help to identify the current impact of physical and chemical barriers along the catchment and provide an assessment of species richness and river health.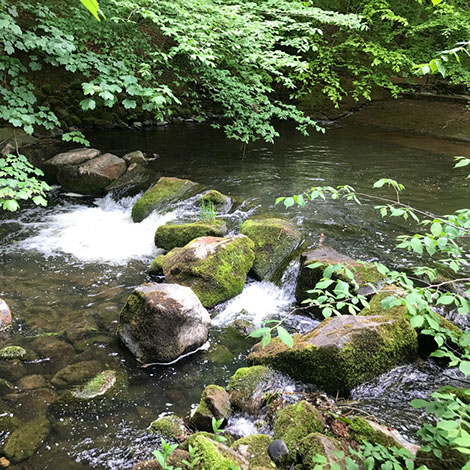 We need help from the community. People who use and enjoy rivers, people who love to walk the outdoors, people who want fish to return to their historic habitats, even people who want to put their drone to good use! To get involved you can start by record any river barriers using a mobile app: the Barrier Tracker App. We will also have our very own duck race using small biodegradable floats to visualise the problems posed by barriers for river connectivity.
Remember that going in or near rivers can be dangerous! So please get in touch if you want to be more involved in Reconnecting Our River - we'll sign you in and send you some more information.
If you would like to get involved, please:
• Choose a stretch of river that has not been surveyed
• Only go to areas with public access
• Check river levels before going out
(https://rloi.naturalresources.wales/ViewDetails?station=4092).
Do not proceed if the river level at Cwm Afan is over 0.3 m
• Go in pairs to remote areas
• Check phone signal with provider before going out – if coverage is poor, go in pairs
• Take an OS map with you and make sure someone know where you are going
• Make sure under 18s are accompanied by an adult
• Wear suitable clothing and footwear
• Take sun cream, a hat and a drink!
• Be aware that all volunteers undertake surveys at their own risk and Swansea University is in no way liable for any accidents, injuries or illnesses that arise due to participation.
We ask volunteers to read our safety briefing (below) and risk assessment before going out
Safety Briefing
Risk
Reconnecting Our River considers the safety of our citizen science volunteers as paramount. All volunteers undertake surveys at their own risk and Swansea University is in no way liable for any injury or illness that may be caused or triggered by participation in the barrier surveys. We ask all volunteers to read the generic risk assessment before going out. The generic risk assessment is a dynamic document and does not mitigate all potentials risks that volunteers could possibly be exposed to during surveys. We therefore recommend that volunteers conduct their own dynamic risk assessment (see table at end of generic risk assessment), both before the survey and on arrival at the site, to assess whether it is safe to proceed.
Supervision
All under 18s should be accompanied by an adult. Swansea University is in no way accountable for juveniles (or adults) undertaking surveys
Protective clothing
Volunteers should ensure they are wearing suitable clothing to protect themselves from the meteorological elements of the day to avoid exposure illnesses or injury.
River levels/deep water
Volunteers should check river levels on the NRW website (https://rloi.naturalresources.wales/ViewDetails?station=4092). Surveys should not go ahead if river levels are over 0.3 m. Volunteers are advised not to enter deep water and to avoid banks above deep water.
Steep/slippery/unstable banks
Banks may overhang the river and collapse. Keep a safe distance from the river or stream. Beware of loose rocks. Wear suitable footwear
Environment
We recommend volunteers undertake a dynamic risk assessment to identify any hazard particular to specific sites (e.g. slippery rocks, deep silt). Only proceed if dynamic risk assessment indicates it is safe to do so.
Wildlife
We ask volunteers to avoid disturbing any wildlife (e.g. nesting birds) they observe during surveys. Volunteers are also advised to avoid contact with any local fauna or flora to minimise the risk of injury through stings, bites and scratches.
Getting lost
Please make sure you have good phone coverage before you go out. In remote areas please go out in pairs. Take an OS map with you. Let someone know where you are going.
Accident or Injury
In the event of any serious accident or emergency ring the emergency services: 999. For more minor accidents, the nearest accident and emergency is at Neath Port Talbot Hospital, Baglan Way. Port Talbot. SA12 7BX. Volunteers may wish to take a first aid kit with them.